Monday, September 29
CDP Worldwide Mix-Tape Exchange IV Drawing.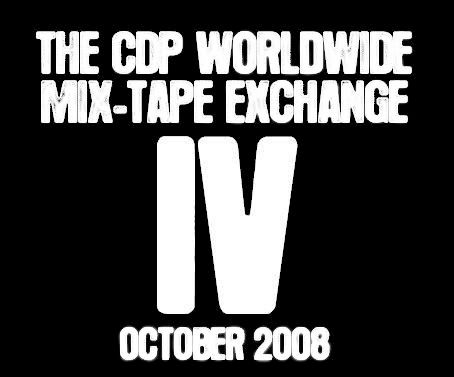 It's go time, kids!
After extensive laboring, uploading e-mail addresses and building one of those spinny-wheels with the Bingo balls in them, I have come up with the 18 pairings for the
CDP Worldwide Mix-Tape Exchange IV
. Everyone who signed up has someone that they will create a mix-tape for, and in tune, they have someone who will make one for them. The phrase-centric themes everyone submitted have also been randomly drawn and assigned to each participant.
The pairings are as follows. The drawing was random; a co-worker picked a number, and I eliminated the names and themes, 'MASH'-style. I don't think kids still play 'MASH,' but that's neither here nor there:
1.
CARGIRL
will be creating a Mix for
SMEDLEY
.
THEME
: "
Let's not say things we can't take back
."
2.
JONELLE
will be creating a Mix for
MIKE HOSS
.
THEME
: "
I'm not a monster...I'm just ahead of the curve
."
3.
HEATHER
will be creating a Mix for
COMET STAR MOON
.
THEME
: "
Music to commit felonies to
."
4.
REESE
will be creating a Mix for
JT
.
THEME
: "
Life is too important to be taken seriously
."
5.
HATHERY
will be creating a Mix for
MICHAEL D
.
THEME
: "
I'd like that on my tombstone
."
6.
HILBELINK
will be creating a Mix for
DOMSAR
.
THEME
: "
...And that's why I don't drink gin
."
7.
FIONA
will be creating a Mix for
BENJAMIN
.
THEME
: "
Round up the usual suspects
."
8.
MAUS
will be creating a Mix for
THE CDP
.
THEME
: "
I used to love you, baby, but you got real ugly
."
9.
SHERRY
will be creating a Mix for
EMILY
.
THEME
: "
When idle concerns don't fill your thoughts, that's your best season
."
10.
MIKE HOSS
will be creating a Mix for
REESE
.
THEME
: "
Superman isn't brave
."
11.
MICHAEL D
will be creating a Mix for
HILBELINK
.
THEME
: "
Misery loves company
."
12.
EMILY
will be creating a Mix for
HATHERY
.
THEME
: "
The drinking will continue until morale improves
."
13.
JT
will be creating a Mix for
MAUS
.
THEME
: "
Mistakes are human; hooves are not
."
14.
SMEDLEY
will be creating a Mix for
JONELLE
.
THEME
: "
Stupid is as stupid does
."
15.
COMET STAR MOON
will be creating a Mix for
FIONA
.
THEME
: "
Watching the universe implode from space and wishing I had remembered my toothbrush; but at least I have your hand...if I could only find the rest of you
."
16.
THE CDP
will be creating a Mix for
SHERRY
.
THEME
: "
Resistance is useless
."
17.
DOMSAR
will be creating a Mix for
CARGIRL
.
THEME
: "
I do it for love, but she does it for science
."
18.
BENJAMIN
will be creating a Mix for
HEATHER
.
THEME
: "
Is that a real poncho, or a Sears poncho
?"
Wonderful. Here's what we all do next:
1.
I will be sending e-mails out to everyone over the next several hours (
give me at least until around the end of the work day to finish
), reminding them who they need to create a mix-tape for, what the theme is and what that person's e-mail address is. For example, your e-mail from me will look a lot like this:
"
Benjamin, you will be making a mix-tape for Hathery. The theme will be 'Please Don't Leave Me Here With This Pedophile.' Her e-mail address is thegirlfrommars
@yahoo.com
. Please contact her and get her mailing address.
"
2.
It will then be up to the creator of the Mix-Tape to contact the recipient and get their physical mailing address. For example:
"
Hey Hathery, it's Benjamin. I'm making you a mix-tape, so give me your mailing address so I can send you some sweet-ass tunage!
"
3.
One you get the mailing address of the person you're sending a mix-tape to, MAKE IT AND SEND IT! Be creative; I've seen amazing artwork, brilliant track selections and overall awesome efforts by everyone every time, so I'm expecting nothing less this time around, as well.
Everyone has a buddy; it would really suck if someone gets left out because you suddenly decided to go deadbeat on them. My goal is to have
ALL MIX-TAPES MAILED OUT BY FRIDAY, OCTOBER 10
. Now that you know who you're making a mix for and what your theme is, you should have plenty of time to whip it up and get it mailed out within 14 days. If someone gets left out, I'll feel personally responsible, so please don't make an ass out of me, or I'll publicly ostracize you here on the
CDP
.
4.
If you're having a problem contacting anyone, an e-mail address is dead or anything else goes wrong, feel free to contact me and I'll sort it out. I'm pretty neat like that. People are busy, so give them a day or two to answer you back, but let me know if it's taking a ludicrous amount of time.
Of course, once you receive your Mix-Tape, sound off in the comments section so we all know the status of everyone's packages. Half the fun is sharing the experience with everyone involved.
5.
I always mention this (
and I'll mention it again in your e-mail
), but if you're looking for an easy way to thank me for inventing something as uniting and awesome as the
Worldwide Mix-Tape Exchange
, I would love a copy of your mix. My mailing address is as follows:
theCDPPO Box 865Sun Prairie, WI53590
I want to make it clear, however, that due to my schedule this October, I will
not
be reviewing any mixes sent to me on the
CDP
. If this hinders your decision to throw a copy my way, I totally understand and we can still be friends. Thank you in advance.
You should be receiving your instructional e-mails by the end of the day today (Monday). So get out there, create a rad Mix-Tape and send it off to your partner before the 10th!
(NOTE: While the CDP counts down the Top 30 Essays during the month of October, I'll still be more than available in the comments section and via e-mail to handle any questions or issues that should arise. So sound off and stay tuned all next month.)
NEXT MONTH:
THE CDP'S TOP 30 ESSAYS OF ALL-TIME -
(2006-2008).
Comments:
I don't want to be a downer so early in the morning, but I want to once again ask everyone to be patient in receiving their confirmation e-mails from me today. I'm on my way to the hospital as we speak, and I really have no idea when I'm coming back, although I'd assume it should only be a few hours.
....yeesh, maybe I shouldn't say that and jinx myself.
I got a terrible cold early last week, which almost instantly led into the flu, which brought with it a sore throat and un-freaking-believable cough. This has since turned into a respiratory issue, where any attempts at deep breathing are met with more coughing and general sadness.
Crap, looks like Bronchitis, right? Well, hang on.
For the last two days, I've woken up with blue lips and what feels like a cinder block in my chest. I've lost five pounds since last Sunday, and the breathing has only been stymied more with even worse, unproductive coughing. My current fear is pneumonia.
I've never had anything like this wrong with me before (actually, I guess I had pneumonia as a newborn, and it damn near killed me), but that's neither here nor there. I didn't feel like suffocating in my sleep, so I'll probably be getting chest x-rays and whatnot for the bulk of the day. You'll get a full update as soon as I figure out what's wrong with me.
In the meantime, start the Mix Trade conversation and enjoy your Monday.
<< Home