Friday, September 12
The 'Lost' CDP Mix-Tape Exchange Review.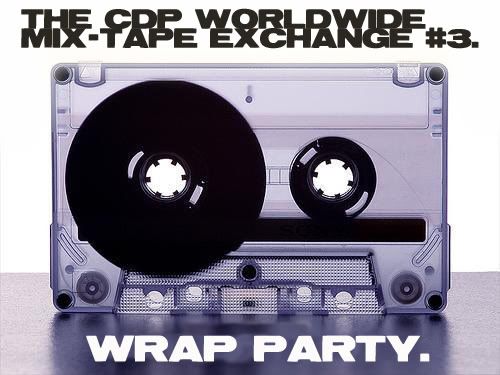 The
CDP Worldwide Mix-Tape Trade #3
wrapped up a few months ago to record participation and some amazing creations by the
CDP
fans. As a way to say thank you, I tried to review every single mix that was sent my way, resulting in many sleepless nights spent listening to dozens of hours of new music submitted by nice folks from all over the globe. For the record, it was great; I think I've been sent over 40 albums since the conception of the Trade.
However, there was one Mix that slipped my grasp this previous time around.
CDP
Alumni Smedley decided to puff his chest out and demonstrate his musical prowess and knowledge, sending me a
six disk
behemoth of sound; cover songs and original versions of said covers spanning almost the entire length of recorded popular music. I remember joking to him at the time that it felt like one of those
Time/Life
collections you see being sold on TV at 3:30am. I honestly felt bad that I didn't pay him for such a massive and amazing collection.
Sadly, time got tight, the Mix-Trade wrapped up, the
CDP
moved on to new essays, and the Smedley Mix-Tape review got lost in the shuffle, unfortunately. Until now. Somewhere in the midst of
everything that's happened to me
in the past month, I finally got the chance to sit down and give this Mix the attention it rightfully deserved. My findings are presented below.
Mix #20 - "

Cover Me This, Cover Me That

" - by Smedley.
The Skinny
: There's absolutely nothing skinny about this mix. Smedley sent me a
6-disk
monolith of sound that's heavy in the 60's and 70's, but pretty much encapsulates an entire historic section of classic bands covering classic songs by other classic bands. Had I attempted to recreate this collection using iTunes, it would have cost me well over $100, and I probably wouldn't have found 70% of the music he dug up for this collection. Where did you
find
this stuff?
The first 5 discs are a who's who of music history covering some of the greatest artists of all-time. Just a sample of the talent included here are: The Beatles, Dylan, Hendrix, The Byrds, Ides Of March, Yes, Elvis, The Beach Boys, Pavement, Queen, REM, MC5, Chuck Berry, The Stooges, Mission Of Burma, The Kinks, The Meters, Al Green, The Stones, Stevie Wonder, Prince, New Order, The Jackson 5, Alex Chilton, Black Sabbath, The Breeders, The Replacements, Joni Mitchell, Mudhoney, The Lemonheads, Dinosaur Jr., Big Black, They Might Be Giants, The Dead Kennedys, Television, The Traveling Wilburys, The Velvet Underground, Johnny Cash, Curtis Mayfield, Devo, Husker Du, Superchunk, The Who, Bobby Darin, Led Zeppelin, Black Flag, Motorhead, Jawbox, Cream, Nirvana and ELO.
I'm stopping at 50 bands to be polite, but there's at least 100 more. Did he miss anyone? I think not.
What's more, the amazing thing is that all of these artists were captured within the somewhat-strict confines of a
covers
album. I had trouble finding a dozen tracks I thought were worthy of replaying on my own mix; Smedley shows up with
all of them
.
His sixth disc was a collection of cover songs that were far more famous than the original version; a sort of reverse-cover collection. This contained tracks like "I Want Candy,"performed by The Strangeloves but made famous by Bow Wow Wow. He also blew my mind when he mentioned that "Do Ya" was covered by ELO and originally performed by another group called The Move. My shock subsided, however, when it was revealed that The Move was essentially a Jeff Lynne vanity project. You learn something new every day.
The Highlights
: I hadn't heard a lot of these covers, so I really didn't know where to start but the beginning. I put on a pot of coffee, did my stretches and got down to business.


Hendrix covering 'Sgt. Pepper's Lonely Hearts Club Band' was a grandiose live opener, and I absolutely blew me away, like most of Jimi's stuff. I used to listen to him a lot in High School, but for whatever reason, he's sadly dropped off my radar. Time to get back in touch.

Nancy Sinatra and Lee Hazlewood covering Johhny and June Carter Cash's 'Jackson' was a surprisingly good time. Hazlewood sort of sounds like the Country/Western version of Calvin Johnson, however.

Smith taking on the Shirelle's 'Baby It's You' was rousing, wailing and beautiful, and Nickel Creek doing Pavement's 'Spit On A Stranger' reminded me of just how great and far-reaching both groups were.

Mission of Burma doing The Stooges' '1970' was just as loud, chaotic and distorted as you'd imagine it being, and Otis Redding's version of The Rolling Stones 'Satisfaction' is about as good as it gets concerning a legend covering one of the most recognizable riffs of all-time. Rage Against The Machine have rarely sounded angrier than their cover of 'Pistol Grip Pump.'

Graham Parker's cover of 'I Want You Back' is brilliant, but I consider it to be probably the greatest pop songs ever written (Barry Gordy never made junk), so I'm a little biased.

I haven't heard the group Frente! for at least a decade, so their stripped-down, acoustic take of New Order's 'Bizarre Love Triangle' is simply beautiful. Alex Chilton's cover of Danny Pearson's 'What's Your Sign, Girl?' only solidified his legend.

Camper Van Beethover doing Fleetwood Mac's 'The Ledge' was silly goodness, Big Black covering Kraftwerk is a match made in bizarre Heaven, and Dinosaur Jr. doing the oft-covered 'Just Like Heaven' was nothing short of blissful.

The Replacements covering KISS' 'Black Diamond' sounded so right, Seaweed taking on 'Go Your Own Way' was a nostalgic slice of Seattle grunge, and The Cardigans pixie-voiced cover of 'Sabbath Bloody Sabbath' made me love that girl (and the original track) all the more.

Man, I wish that I could just upload Smedley's great track-by-track comments here, because they really say more than I ever could. I'd like to think that he researched this stuff religiously before pecking it out, but I get the feeling that this was all stream-of-consciousness, which makes me so envious I could spit tacks.

Buck Owens cover of 'Johnny B. Goode' is a good, rocking reminder of where country music came from, as opposed of the melting pot or suck it's become in the last 20 years. The Jam covering Curtis Mayfield got me to thinking about why they were never a more well-known group. As it turns out, they were just jerks who shunned the notion of American celebrity. Hey, whatever floats your boat, Mod fellows.

Husker Du can do no wrong, and their take on The Byrds 'Eight Miles High' is Exhibit A.

These are all just great tracks, almost an education, if you will. My only critique is that it's all just too much. Even if every track is good, it's just very difficult to digest so much culture at once, and it can't help but get overwhelming and desensitized. I'm not saying that any of these tracks deserved omission, it's just an absolute crap-ton of tracks.

The guitars in the Jawbox cover of REM's 'Low' are powerful and dominant, which rules.

I notoriously despise Janis Joplin, so hearing the original version of 'Piece of my Heart' by Emma Franklin made me seriously happy, mainly because Franklin makes Joplin look like the unwashed hunk of heroin-soaked crap that she really was. Too much? Nope.

For as much as I've been reminded, I always forget that 'Twist And Shout' was a Isley Brothers song covered by the Beatles. Both versions are classics. Gloria Jones original version of 'Tainted Love' was incredibly eye-opening, and according to Smedley, didn't even chart at the time of release. I had no idea the original track was so old.

ELO, to me, was one of the greatest rock bands of all-time; Jeff Lynne is a genius that completely understood the art of the hook, and coupled with his studio magic, created a nearly-unmatched legacy of awesome. Hearing 'Do Ya' reminded me that I need to bust out their albums. I've always stated that 'Sweet Talkin' Woman' should be on every Mix-Tape you can cram it into, and I hold fast to that opinion.

Whew; I need to get out of the office for a few hours. That was intense.


By The Way
: Some people send me a handwritten track listing with descriptive notes. Smedley sent me a six-tab Excel spreadsheet. He seriously gave me about 140 songs that I didn't have for absolutely free, and I'm still a little stunned about the whole thing. I almost feel like I owe the man money. He truly went above and beyond, and his ego-free knowledge of music history rivals mine times about a hundred, and I even went to
school
for Music History.

Additional Notes
:
Damn
.
So, there you have it. I hope that I did this long-awaited review justice (Smedley had been patiently waiting for it for quite some time), and I recommend you get on Smedley's e-mail list, as he has a habit of giving out songs for free all the damn time. I salute you, good sir, and bow deeply in awe of your musical prowess. You must be like, 800 years old or something.
Sound off in the comments section and enjoy your weekend.
NEXT WEEK: TV WEEK.
Comments:
Sorry, but I just couldn't get through your comment. It was way too long. Simplify!
When I'm sent these mixes, the artist/album/song info doesn't automatically show up in iTunes, so I have to enter everything in by hand. So I want to sincerely thank Smedley for ruining my weekend. :)
<< Home