Wednesday, September 10
Smoochin'.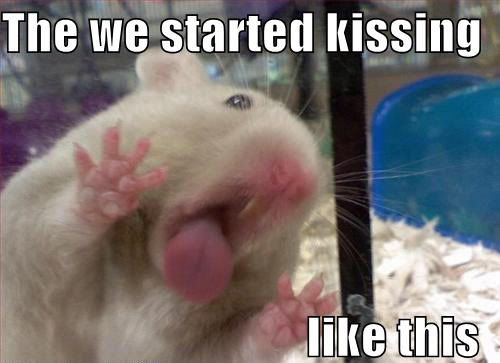 Last week, me and the Missus decided to take a break from our busy workdays and meet downtown for lunch. Afterwards, as I was walking her back to her car, I gave her a quick smooch and continued on my merry way. Simple. Very routine, very methodical and very robotic. Indicative of two people that have done it a million times prior. Thus goes the life of a married couple, and it got me to thinking.
For the bulk of my readers that are married or in a long-term relationship, I ask you: Whatever happened to the kiss? As a teenager or someone just starting out in a passionate, physical relationship, the kiss is about the most important thing you can do. It's what you strive for. It's the reason you put on clothes, smell nice and head out the door every day. Kisses create memories, they tell stories and they change lives on a daily basis. I'd even argue that a kiss is more important than sex in a manner of speaking, provided that conditions are correct.
The first time I kissed the Missus, it was in her parents driveway after we had gone out for dinner. It was January of 2000; I was 17, she was 16. I knew that something important was about to happen, I just didn't know what, and I felt I was too self-conscious and oily to make the move. After exchanging parting glances and pleasantries, I said good night and offered her a hug. Mustering every ounce of gusto I had, I had the brilliant idea to sneak a kiss on the cheek as I released her from my embrace. She, being the more intelligent and forthright member of this unstoppable Power Duo, was having
none
of that, and actually turned quickly to face me, effectively turning my innocent cheek-kiss into a full-on liplock that lasted 2.4 of the longest seconds of my life.
It was, to this very day, one of the greatest moments of my entire existence. Kissing flat-out
works,
bitches. Considering every little disgusting thing we've done since then, I still look to that moment because it encapsulated something one-of-a-kind. Unable to be duplicated. Void of ego and fueled only by emotion. Pure
beauty
.
But eventually, with marriage, adulthood and the unfortunate habit of taking your lover for granted, smooching inevitably becomes the background noise in your lives. As habitual as brushing your teeth or taking a shower, kissing becomes a formality, and there are little, if any, times where a kiss can ever take you by surprise the way it once did. It's not that you don't love and cherish the person that you're with, but it's just that your hand has been played. All of your tricks have been revealed, and nothing is going to surprise him or her anymore.
Married couples just don't take the time to properly experience what a kiss is supposed to be, and I felt that I should be the one to put a stop to all of that. Not take the Missus for granted so much, and harken back to a time when we were just wide-eyed kids, making out in my car like we had just invented a new drug (
Makeoutazine? Sexapan?
). Furthermore, I consider myself to be
somewhat of an expert/idiot on the matter
, and I'm far too private to talk about anything beyond first base in a public forum.
I decided that action needed to be taken immediately, so I consulted the Internet and found a veritable
Kama Sutra
of First Base; varying techniques, inventive offshoots and reader testimonials concerning ways to breathe new life into a dead form of romantic expression for established couples. Whether the Missus wanted to or not, I wasn't going to let anything in our still-budding marriage die out so quickly, and she became a semi-willing test subject for about a dozen different methods of smooching, ten of which I plan to share with you right now.
The following kisses and testimonials are taken directly from a
Match.com
article, and they have been copied without permission. My (
and the Missus
) thoughts will appear under each one. Enjoy.
Great New Kiss #1: The Waterfall Kiss -
The next time you're walking your date home and it starts raining, consider grabbing your sweetie and giving a long smooch, sans umbrella. The wetness of your face and lips will give this kiss an incredibly sensual vibe. Just ask Seth, 31, from New York, NY, who began making out with his girlfriend in the rain with great results: "It became increasingly wet with the rain pouring down—it was just all tongue and water and slippery and very sexy," he recalls. "Sometimes I try to create that in the shower with the woman I'm dating now. It works, but the original was definitely better."
The Test:
We didn't want to wait until a thunderstorm to try this kiss out, but we were also too lazy to follow Seth's secondary advice and jump into the shower. Besides, we both agreed that kissing spontaneously in the rain is an entirely played-out and overrated move by people who clearly don't care about having to do a load of laundry at midnight on a Wednesday. Impractical at best, and trying way too hard to recreate an 80's movie.
That being said, we certainly started out with a winner when the time came. The Wet Kiss, historically, is very passionate, memorable and sexy, but be warned that it's exceedingly sloppy and sort of disgusting to the untrained eye (
like most sexual activity, really
). I've never
not
been a fan of this particular smooch, and it came through in a big way once the rain started pouring down on our deck. The difference between now and when we were kids was the realization that we've been married for 4 years and were sharing a moment outside of the house we now owned as a couple. More than anything, there was a feeling of sheer accomplishment, which is a universal uniter. Nothing like a water softener or furnace to really bring a couple together.
The Verdict: Two soggy and wrinkled thumbs up.
Great New Kiss #2: The Tickle-Me Kiss -
For a lighter, more playful night of necking, forget about your lips for a second and try using a new tool in your kissing arsenal: your eyelashes. Fluttered against a check or temple, they'll deliver a barely-there sensation that will leave your lover wanting more, much more. Just ask Sarah, 30, from Denver, CO. "Sometimes I tickle my boyfriend before I kiss him by batting my eyelashes lightly against his cheek. I follow with a line of soft, light kisses there. He always laughs. It's a nice way to remind him of the fun side of our relationship."

The Test
: We already knew that we weren't fans of the 'butterfly kiss,' so it didn't really take long to determine that it's more or less a huge waste of time. I understand that as married couples become more and more used to each other, the art of foreplay tends to take an unfortunate backseat at times. In this particular situation, it was mutually agreed that this didn't qualify at
all
as foreplay; at best, it was something you'd do to annoy someone.
However, it's hard to do this without laughing at each other, which I guess counts for
something
. It is a playful and cute thing to do, and the Missus found it tender; something done to show attention while sitting around the living room (
which is what I did, during the Olympics, no less
). But please, for the love of God, refrain from doing this in public. Revolting in every way and worthy of a throat-punching.
The Verdict
:
One embarrassed, male thumb down; one slightly-pleased, female thumb up.Great New Kiss #3: The Roundabout Kiss -
The outer edges of your lips are a sensitive, but oft-ignored, area—so try revving your amour's motor by trying this move. Trace the tip of your tongue along this periphery, a move that does wonders for Virginia Smith, 23, from New Haven, CT. "My boyfriend would kiss me on the lips and then pull away a little and run his tongue slowly along my upper lip and then my bottom lip, in a circle. Every time I tried to kiss him, he would pull away, and then go in for some more circle action. It drove me crazy, in a good way."
The Test:
The description of this kiss makes it sound like it's something more than merely licking your partner's face, which is exactly what it is. After about a minute of lapping at the Missus like a dog, I decided that she didn't deserve such treatment and we quickly crossed this ridiculousness off of our list before she peppersprayed me.
I can't see much of a redeeming quality in this sort of almost-kiss. I mean, I understand the merits, but the execution is spotty at best. Also, if you busted this out on someone who wasn't expecting it, it would almost assuredly be met with sheer, abject terror. Luckily, I tipped the Missus off about this one beforehand, lest the police be called. Be careful out there.
The Verdict
:
Two slobbering thumbs down.Great New Kiss #4: The Power Kiss -
Sometimes the most passionate kisses have very little to do with your mouth. Rather, it's the commanding way you use your hands that can make sparks fly. For Heather, 29, from New York, NY, kissing hits new heights when her girlfriend grabs her just so. "She'll pull me close when I least expect it, putting her right hand firmly around my waist and cradling the back of my head with her left hand before kissing me," she explains. "I love that kind of kiss!"
The Test:
It should be noted that the above description of this kiss was relayed by a woman about her girlfriend, which was more or less all I needed to get into the correct frame of mind to knock it out of the park (
I'm sorry; I just cannot help it
). I'm pretty skilled at this one, as it is my already-favorite method of reminding the Missus that she's awesome from time to time. She arrived home from work last night, and I swept her up like a kitten, cradled her cheek, locked into her eyes and just
obliterated
her with a Power Kiss.
BOOM!
Job well done; Missus left breathless, sad and confused.
The Verdict
:
Two thumbs way up. Groceries dropped onto floor.Great New Kiss #5: The Ice-Cube Kiss -
On a hot summer day, you can still make chills run up and down your date's spine by popping an ice cube into your mouth or eating a Popsicle… then planting one. Take it from Laura, 28, from Englewood Cliffs, NJ, who uses frozen grapes for a chilly surprise. "Sometimes, I'll pop a frozen grape or two into my mouth before I kiss the guy I'm dating. It makes my mouth really cold and when I kiss his neck and down his chest, he loves the way it feels—he gets goose bumps everywhere."

The Test:
A word of warning, here. When dealing with extreme temperatures, please keep all kissing above the beltline unless properly warned in advance. Hospitalization or even death may occur. Remember in the cartoons, where someone would run straight through a wall, leaving behind only their outline in the wreckage? Yeah, just like that.
I quite enjoy this one. For our most-recent test, I had been drinking a Strawberry 'Fruitista Freeze' that I had just picked up from Taco Bell after work. I think I recall this trick being taught in
Classless Loser
magazine, and the Missus was left feeling refreshed and hungry for Cinnamon Twists.
The Verdict
:
Two frozen grapes up.Great New Kiss #6: The Keep-Away Kiss -
Making your lover beg for more can be a turn-on, and there's a way to bring this element into kissing. Nicole, 26, from Miami, FL, has mastered the technique. "After I've been making out hot and heavy with a guy for a few minutes, I like to pull back and look him in the eyes. At this moment the guy will usually try to make out again, but I don't surrender the upper hand! After I've successfully avoided another kiss, I give him a bunch of baby kisses along his lips starting at one side and going to the other. He always swoons."
The Test:
I don't 'swoon.' Never have and never will. I'm not sure I even know what that
means
. Furthermore, I don't consider this to be a kiss; more like something to be done in
between
kissing. This one doesn't count; it's standard foreplay and nothing more.
The Verdict
:
Not Applicable. There will be no swooning in my house.
Great New Kiss #7: Altoid Kiss with a Twist -
Those mints that you keep in your pocket can help you with more than just your breath. Try this trick for a tingling sensation, and a tasty game of hide-and-seek. Karen, 35, from New York, NY, explains how she makes this work for her: "I tuck a spearmint Altoid in the back of my cheek and he tries to pull it into his mouth with his tongue. It makes for some good, deep kissing." It adds a cool feeling to your kiss, and as Karen adds, "It's a fun way to ensure some lengthy foreplay."
The Test:
This is disgusting. I recall doing this a few times as a teenager with gum, but seriously, it's a pretty gross thing to do, hard candy or otherwise. Kissing can be a lot of things to a lot of people, but a tongue-administered Strep test isn't one of them. At least, for me.
You need to be in a fairly specific mood to make this feel like anything other than work. 'Playful' is the first one that springs to mind; a word that I would (thankfully) never use to describe myself and the Missus. Nonetheless, the absurdity of the kiss itself made us giggle, and I can assure you that when you're attempting to do this while laughing, it's nearly impossible.
The Verdict
:
Two minty thumbs in the middle, but a fun thing to do at parties, I suppose. Great New Kiss #8: The Breathless Kiss -
Many couples claim the scent of their sweetie is quite an aphrodisiac. If you agree, you'll love this kiss, which actually involves no lip-to-lip contact, but instead zooms in on those heady aromas. Laura, 28, from New Haven, CT, explains why she loves this technique: "We'll take long, deep breaths and move around each other's bodies as if we're kissing the other person, but we're not using our lips," she explains. "In many Asian cultures, it's customary not to kiss with your lips, but to 'sniff'one another, and — I have to say — it is very sensual."
The Test:
I fully understand why this is a turn-on, but the description makes us all sound like nothing more than canines. Also, I don't care what constitutes a kiss in other cultures, but this ain't it for sure.
The Verdict
:
Not applicable. The Missus always smells like sandalwood and sexy.Great New Kiss #9: The Sugar Smooch -
Food and kissing can be a great combination, but let's just say that certain snacks are better-suited than others—and one of the best is marshmallow fluff. Why? It's sweet, smooth, and melts in your mouth (so you won't have to swap a big gob of food). Try this playful marshmallow move by M.W., a 26-year-old from New York, NY. "My guy and I do this thing where he puts a little dollop of marshmallow fluff onto his tongue and we start to kiss," she explains. "The fluff melts easily in the heat of our mouths and what once was sticky becomes deliciously slick and sugary."
The Test:
Marshmallow Fluff used to be my best friend. I would treat it like some kids would treat pot: I always had a stash on me, my friends would get together, pass it around and watch
MST3K
, and it ultimately led to our overall stupidity and weight gain. I would usually buy a pack of M&M's, and stir them right into the Fluff jar, scooping out the delicious concoction with a spoon. Those were the days.
Then, I got older. More of a punk. Started hating stuff. Became a vegetarian and shunned all things gelatin, which included all marshmallow foodstuffs and Jell-O. Said goodbye to Fluff and never looked back.
The Verdict
:
I miss Fluff so bad.
Great New Kiss #10: The Stop-and-Go Kiss -
This kissing game will get you steaming up the windows of your car in no time: When driving somewhere, promise to smooch every time you're waiting at a red light. Whether you've got time for a full-blown make-out session or just a peck on the lips, it certainly beats just sitting there waiting impatiently, plus it can become a sexy new aspect of your relationship. As Erez Rotem, 30, of Brooklyn, NY, reports, "We just started doing it one day and now it's become a sweet little tradition."
The Test:
At first glance, this seemed to me like a grownup version of the somewhat racist-named teenage game, '
Chinese Fire Drill.
' Only this time around, it won't end with my friends leaving me for dead at the intersection of 9th ave and Mason, only to be driven home by the cops three hours later. Or maybe it would; how should I know?
We decided to test this the last time we wene grocery shopping, which is one of the few times during the course of a week that we ride in the same car together. It was then that we realized that there's only one stoplight between our house and the Copp's Food Center, and it just so happened to be green.
When we got in the parking lot, I leaned over and kissed her cheek anyway, just like I tried to do almost 9 years ago. And just like 9 years ago, she turned her head and planted one on my lips.
The Verdict
:
I'm a lucky guy. Furthermore, the Missus just reminded me that there's no gelatin in marshmallow Fluff.
Kiss off in the comments section and enjoy your day.
Comments:
You know, I was thinking about this on Monday, actually, because it was 1 am and my husband and I were going to bed, and I rolled over and said, "Did we even kiss each other at all today?" Neither of us could remember. How sad is that? Kisses just got lost and forgotten in between scooping up the cat poop and risking jail time for cocktails.
Nevertheless, I think we still have some pretty fantastic kisses on a regular basis. I, too, am a big fan of the Power Kiss (whether giving or receiving), but I also like the kind of kiss that starts out as so-so, but then one of you just really revs it up out of nowhere, sort of a variation of the Power Kiss. You know, kind of going, "No, screw this minimalist kissing shit; when I kiss you I'm going to KISS you."
<< Home