Friday, October 31
CDP Top 30 Of All-Time ('06-'08) - #1.
#1 - "65 Poor Life Decisions - The CDP Book."
(Originally Published November 30, 2007.)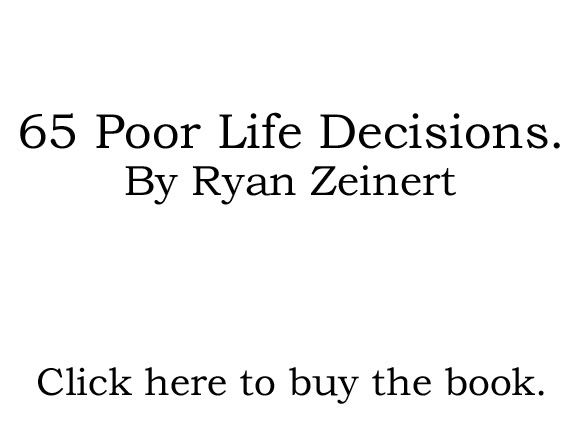 There are two ways you can order copies of
65 Poor Life Decisions
, my debut book:
1.
Directly through Lulu, by clicking on the above link, banner link,
OR THIS LINK
. It's safe, secure and simple. Cost is $15.95. If you're feeling charitable, feel free to leave me a 5-star review or any kind words while you're there.
2.
Directly through me, which includes a copy of the book, shipping to anywhere in the nation, autographs/personalization and free
CDP
merch. Cost is $21, and we will accept money orders or well-concealed cash (
no checks
). Contact me beforehand, however, because I may be sold out of books at the time and may need to reorder.
Send the $21, along with a return address, name to make the book out to, and e-mail address for delivery confirmation, to:
theCDP.
PO Box 865
Sun Prairie, WI 53590
If you are requesting a copy through me, and you live outside of the United States, please send $25 to cover extra shipping charges. American money or International money orders only, please.
If you are paying via money order, please make orders out to Ryan Zeinert,
not
'theCDP.' Also, while money orders are traceable and secure, I can't be held responsible if your cash payment doesn't make it to my PO Box.
Thank you so much in advance for liking my dumb little stories; I can't thank you enough. This is honestly one of the neatest days of my life, and I have each of you to thank. Cheers.

UPDATE #1
- The almighty Kevin Palmer from PointlessBanter.net has put up a '5 Questions' interview with me concerning the release of the book. It's hilarious and informative,
you can check it out right here
!
UPDATE #2
- HoneyFlora over at 10 Links A Day has allowed me to guest blog and list my top 10 favorite humor sites on the web. I even give a shout out to CDP alumni Pork Tornado, Pointless Banter and the Cargirl News Minute!
You can check it out right here
!
UPDATE #3
- Cargirl over at the highly underrated and hard-working Cargirl News Minute has posted a brief reminder/plug for
65 Poor Life Decisions
.
You can check it out right here
!
UPDATE #4
- JT from Spork Nation posted one of my absolute favorite interviews concerning the book. It was done 'live chat' style and the questions were great. It's about as personal as I'll get in an interview, so please take a look at it if you want to read something slightly more insightful than what I'm used to.
You can check it out right here
!
UPDATE #5
- Since we're going interview-crazy today, here's a good one conducted by Jesse Russell for Dane 101 awhile back.
You can check it out right here
!
UPDATE #6
- Will Betheboy has been so kind as to plug
65 Poor Life Decisions
on his blog. Now if I can only convince him to upload a photo of him or Nina
kissing
the book...hmmm...
You can check it out right here
!
UPDATE #7
- Kenny Frankly is plugging
65 Poor Life Decisions
on her blog, Topping From The Bottom.
You can check it out right here
!
UPDATE #8
- On Friday afternoon, I met up with a few friends, signed a few books and had a few drinks.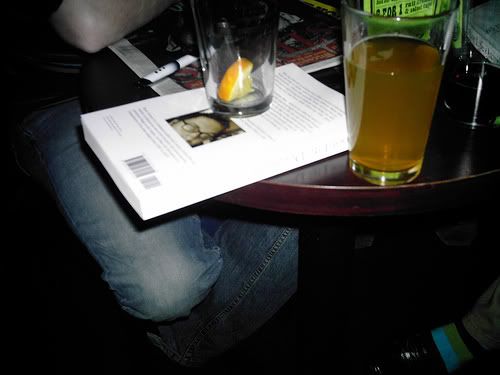 At least I know that my book is good for
something
.
UPDATE #9
- Maus from Idle Neatness posted a brief plug for
65 Poor Life Decisions
, complete with sexy banners and links.
You can check it out right here
!
UPDATE #10
- Vintage Caveman just put up a link to my site, a link to the book, and some kind words concerning
65 Poor Life Decisions
. He's going the mail-order route; choosing to conceal his cash in a box of Mike-n-Ikes. I have the greatest fans in the world, hands down.
You can check it out right here
!
UPDATE #11 (12/03)
- This weekend has been busy, but also very refreshing to my burnt out self. I'm amazed to say that I sold
30
books in the last three days,
strictly hand-to-hand
. What I mean is that I sold 30 books
in person
,
not

counting any online or mail orders
. This is incredible to me, because I was quite certain that I wouldn't sell a
total
of 30 books.
With this good news in my pocket, I'm fully recharged and ready to spend all week fulfilling your mail order requests, as well as taking on more interviews and local press. Expect to see more of those in the upcoming days this week. I've been snowed in since Friday evening, but I'll be driving to the Post Office every single say, making sure that everything is being taken care of the instant it gets in my hands. It's the least I can do for such supportive and generous readers.
Now, send me some money, please.
Rock Band
for the PS2 comes out in 10 days.
UPDATE #12
- HeyDomsar just posted a fantastic (and lengthy) interview with yours truly over on his Milwaukee-based blog, Thought For The Day. This is a good one;
You can check it out right here
!
NOTE FROM THE CDP
: So, the
CDP Top 30
ends with a sentimental favorite. The release of
65 Poor Life Decisions
encompassed the last five years of blogging, essays, hard work, long nights, copious alcohol consumption, depression and most of all, my attempt at telling the funniest stories I possibly could. I felt it deserved to be #1 for a number of reasons, not the least of which being that it's been one of the biggest accomplishments of my adult life.
Thanks for reading, thanks for showing up during Rerun Month, and if you're new to the
CDP
, please stick around; all-new material returns Monday. Happy Halloween; sound off in the comments section and enjoy your weekend.
Comments:
65 Poor Life Decisions is available at your local Wisconsin library. Just ask your kindly librarian to order it for you! :)
<< Home