Thursday, December 18
The CDP's Top 20 Albums Of 2008 (#10-#6).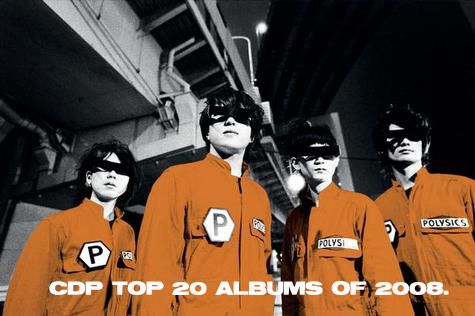 The end of the year is approaching, which means that you're probably currently inundated with thousands of lists and end-of-the-year countdowns concerning all sorts of cultural achievements. Well, here at the
CDP
, it's no different, as today we continue to count down the
Top 20 Albums Of 2008
.
Just another quick word on the validity of this list. It's by no means a '
definitive
' or '
good
' list; merely a list of the 20 best albums purchased by me this year. I'm not
Pitchfork
, I don't get free albums, and I don't actively seek out things that would boost my indie cred. I'm just a dude, dudes, so get right the hell over it and enjoy.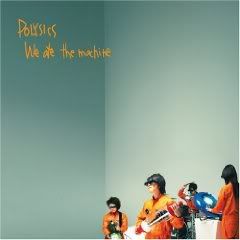 #10. POLYSICS -

We Ate The Machine
With each new year, we can expect two things for certain: another epic Chicago Cubs collapse, and another mind-bogglingly amazing album by POLYSICS, the
CDP
's choice for Greatest Band In The World for over five years now.
We Ate The Machine
is essentially an American debut of sorts, having recently secured a decent distribution deal on this side of the pond through...
gahh
...MySpace Records. And while it's not a great introduction to the band (Greatest Hits Album
Polysics Or Die!!!
should be in everyone's home), the Japanese space-spazz-noise orgy still holds up quite nicely. Even on their worst day, POLYSICS is still light years ahead of their closest competition.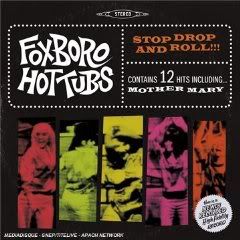 #9. Foxboro Hot Tubs -

Stop, Drop And Roll!!!
Where does Green Day find the time? In addition to releasing multi-platinum albums, circling the globe on tour and constantly cementing their place in the Rock & Roll Hall Of Fame, Billie Jo Armstrong and company have released two full-length albums now under assumed names: The 2003 Devo-influenced
Money Money 2020
under the moniker of The Network, and now the Zombies-fueled 60's rock fest that is the Foxboro Hot Tubs'
Stop, Drop And Roll!!!
And let's not even mention Mr. Armstrong's continuing role in Pinhead Gunpowder. With
Stop, Drop And Roll!!!
, Green Day is able to create some fun, throwback music that wouldn't necessarily work under the Green Day name, and the result is their best album since 1997's
Nimrod
.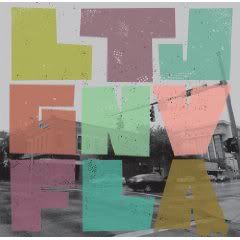 #8. Less Than Jake -

GNV FLA
Following two of my favorite bands of all-time (POLYSICS and Green Day), we move right into a band that might actually rank higher; Less Than Jake. Now, I'll be the first to admit that the LTJ crew hit a bit of a skid following 2003's
Anthem
, trying a little too hard to be mainstream and poo-poo their ska-punk roots with the abominable
In With The Out Crowd
. But the guys seem refreshed nowadays. They own their own record label, self-released
GNV FLA
and returned to a sound that was a welcome compromise of their previous efforts. I was worried for a little bit, but Less Than Jake made it work, and after an almost-fatal misstep; they're back.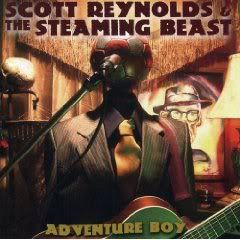 #7. Scott Reynolds -

Adventure Boy
I love Scott Reynolds. Possibly best remembered as one of the singers for legendary punk band ALL, he has since go on to front bands like Goodbye Harry, The Pavers, and most recently, his same-named solo project. A man's man, a songwriter's songwriter and a genuinely nice guy, Reynolds comes through with an amazing solo effort, bursting with rejuvenated tracks about everyday misfortune, tough luck and forgotten love. I honestly think that this was the album he had been trying in vain to create for years, and in that regard, it's an absolute triumph.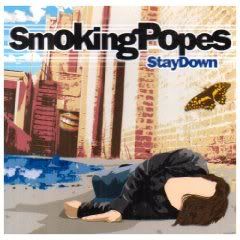 #6. Smoking Popes -

Stay Down
As a teenager, I discovered the Smoking Popes a little too late to catch them at the peak of their fame. Much like a lot of influential 90's groups like At The Drive-In and Lifetime, they broke up before I had a chance to see them live or buy their records on the day of their release. Fortunately, the Popes decided to follow the flock of reuniting 90's acts and hit the road once more, only upping the ante by not only releasing a new album of original tracks, but having it be freaking amazing to boot. They're not a tribute act, and they're not basking in the glow of their former glory; they're a current band writing currently fantastic music, and I was very pleasantly surprised to see
Stay Down
exceed so many expectations.
The CDP's Top 5 Concerts Of 2008:
#5
. Margot & The Nuclear So & So's - Orpheum Stage Door - Madison
(A warm, May night in downtown Madison with a small crowd and an extremely talented band of musical geniuses fronted by a self-destructive drunk. A night to remember.)
#4
. We Are Scientists - High Noon Saloon - Madison
(What struck me most, besides their tight and absolutely hilarious live show, was how genuinely nice the guys were. They hung out at the High Noon for hours afterwards, shooting pool, drinking and chatting with fans. Not too shabby for semi-famous NYC hipsters who hang out with The Lonely Island guys all the time.)
#3
. Riotfest - Congress Theatre - Chicago
(The Mighty Mighty Bosstones. Jay Reteard. The Casualties. DOA. Leftover Crack. The return of ALL. This weekend had it all, including my getting historically plastered at the Double Door in Wicker Park.)
#2
. Smoking Popes - High Noon Saloon - Madison
(When a super-appreciative crowd comes together to see a band like the Smoking Popes, what results is nothing short of magical. Great guys, timeless songs, an absolutely fantastic evening overall.)
#1
. The Weakerthans - High Noon Saloon - Madison
(It's not every day that you get to see one of your favorite bands ever in your backyard. I personally never thought I was going to see the rare-touring Canadians, so to me, this night felt like one of those dreams where your favorite band plays just for you. Not just my favorite concert of 2008, but personally one of my favorite moments as well.)
Sound off in the comments section, start the argument and enjoy your day. The end of the week brings the
CDP's Top 5 Albums Of 2008
. Stick around.
Comments:
I wish the music scene here was as cool as it is there. We have a couple of *huge* venues that get the stadium acts, which I'm generally not into, and the bands that come to the smaller venues aren't familiar to my friends or are scheduled on nights that doesn't work for anybody's schedule, so it is hard to get to a show even when a good act makes it here - unless I want to go alone, which I don't. I missed the Flaming Lips last year because I couldn't find anyone to go with me.
<< Home