Monday, April 13
CDP Worldwide Mix-Tape Trade #5 - Wrap Party 1.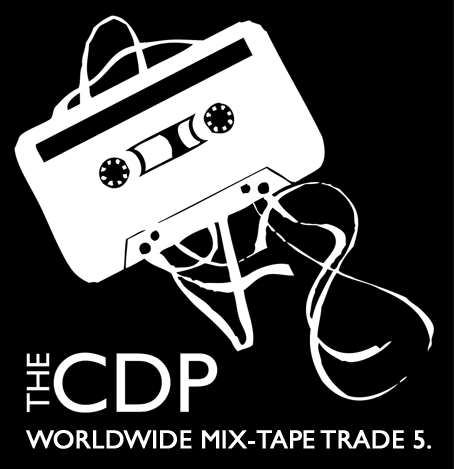 Finally, after two weeks of sifting, listening, drinking, typing and deciphering handwritten track listings, I've managed to make it through all of the Mix-Tapes that were so generously sent to me for the
CDP Worldwide Mix-Tape Trade 5
.
Thank you very much; I appreciate it.
I wanted to take a brief moment to spotlight all of the great mixes that were sent to me, as a small way of saying thank you. Therefore, for the next several days, I'll be doing just that. Please enjoy.
Review #1 - Benjamin.
Benjamin is known for his interesting take on Mix themes, but he outdid himself this time around with probably his most creative and listenable Mix to date. This collection is his Top 15 tracks that you're most likely to hear him singing in the shower, and it's full of 90's alternative, catchy pop-punk, and even a Beatles tune. His cover art is second-to-none, fearlessly showing himself off in the act of…erm…creating his track listing, so to speak. What's more, he even included a hidden track of himself doing an in-shower medley of the entire album! Great theme, great songs, great creativity; what's not to love about this?
NOTABLE TRACKS:
#15 - She Don't Even Know My Name – Ultimate Fakebook
#11 - Nrrrd Grrrl – MC Chris
#7 - Pretty Pathetic – Smoking Popes
#5 - My Very Own Flag – Less Than Jake
#2 – Mary - ALL
#1 - Hey Jude – The Beatles
Review #2 - Brian.
First-timer Brian came through in a big way with his 'Remembering the 90's' Mix; which has actually become the biggest 'guilty pleasure' Mix that I've had the good fortune to be sent to me. With a solid knowledge of 90's pop hits, alternative cuts and more than a little bit of tongue-in-cheek nostalgia, Brian created one of the most accurate snapshots of the last decade, and it has probably spent more time on my iPod than any other Mix in this Trade.
NOTABLE TRACKS:
#19 - Song #2 – Blur (Which was Track #2 on the Mix!)
#10 - Two Princes – Spin Doctors
#9 – Jump – Kris Kross
#3 - Hey Jealousy – Gin Blossoms
#2 - Smells Like Teen Spirit - Nirvana
#1 - It's The End Of The World As We Know It (And I Feel Fine) – R.E.M.
Sound off in the comments section and enjoy your day; Part 2 arrives tomorrow.
Comments:
Hey, wasn't "Document" released in 1987? (Don't mean to be a stickler...but...I am hardcore about my years of release.)
<< Home