Wednesday, April 22
CDP Worldwide Mix-Tape Trade #5 - Wrap Party 7.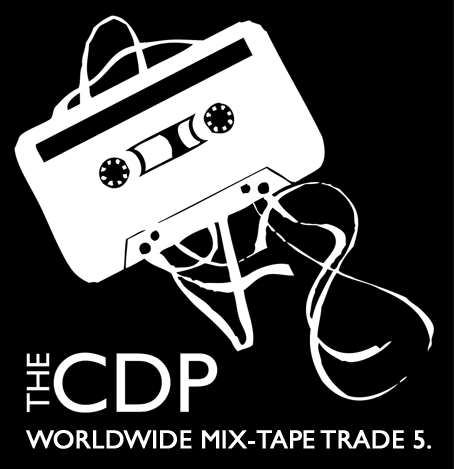 Finally, after two weeks of sifting, listening, drinking, typing and deciphering handwritten track listings, I've managed to make it through all of the Mix-Tapes that were so generously sent to me for the
CDP Worldwide Mix-Tape Trade 5
.
Thank you very much; I appreciate it.
I wanted to take a brief moment to spotlight all of the great mixes that were sent to me, as a small way of saying thank you. Therefore, for the remainder of the week, I'll be doing just that. Please enjoy.
Mix #13 - Caitlin.
Judging by her taste in music alone, I think that me and Caitlin would get along just fine. An intelligent mix of catchy and mellow, poppy and emotional, serious and lighthearted, light but never empty. Her Mix, titled 'Top 10 (Plus Five) Songs I Can't Seem To Stop Listening To,' boasted beautifully-handmade liner notes consisting of track descriptions and an absolutely adorable hand-drawn cover (I cherish one-of-a-kind stuff like this), gently taking the listener by the hand and leading them through a whimsical, comforting and beautiful stretch of solid music.
I know that I've been saying this every day, but this is a tremendous Mix, essentially par for the course when it comes to all of the good stuff I've received this time around. It's beautiful for both a rainy afternoon drive or just a dark room with headphones (I did both).
NOTABLE TRACKS:
#15 - Decatur, Or Round Of Applause For Your Stepmother! - Sufjan Stevens
#14 - Passing The Hat - Cold War Kids
#11 - Billy Brown - Mika
#4 - Maps - Yeah Yeah Yeahs
#3 - Opportunity - Pete Murray
#1 - Tiny Dancer - Elton John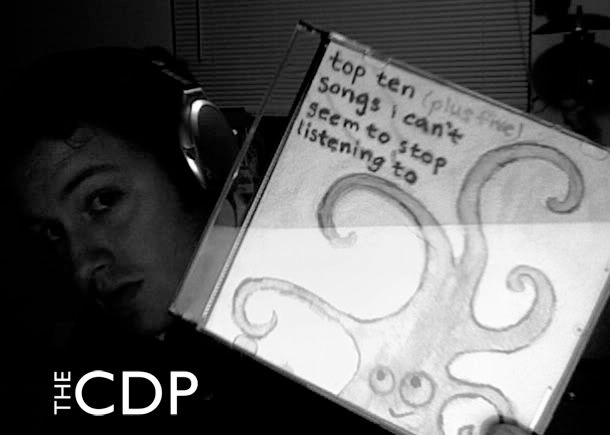 (I included this shot, not just to show off Caitlin's cute-as-a-button cover art, but to prove that I indeed sit here and listen to every Mix sent to me.)
Mix #14 - Emily Mills.
It's no surprise or secret that I've been enamored with Emily Mills since we first crossed paths. I like the way she dresses, I like her undying committal to anything and everything creative, I admire her writing and I think she's more than a little cute. Therefore, it would stand to reason that my review of her latest Mix, 'Top 20 Songs To Kick Righteous Ass By,' may be a little...biased.
Well, not the case. True to form, Emily once again brought the pain with a deep range of genres that has become a staple of a Miss Mills Mix. Industrial techno, punk rock, Gypsy punk, ska and legendary singer/songwriters all come together somehow to create a non-stop barrage of attitude adjustments and sexy fist-clenching. Seriously, this Mix starts and never stops, and I freaking loved every second of it.
NOTABLE TRACKS:
#20 - Kick Out The Jams - MC5
#19 - Irish Drinking Song - Buck-O-Nine
#16 - I Would Never Want To Be Young Again - Gogol Bordello
#14 - Defiled - New Bomb Turks
#7 - Tasmanian Pain Coaster - El-P
#1 - Rasputin - Turisas
It should be noted that for most of the tracks I reviewed, I only spotlighted six tracks per album. I did this to adopt some sort of uniformity for everyone, but I can assure you that every one of these albums was chock-full of winners that would take forever to list properly. If you're interested in getting a copy of anyone's Mix-Tape, I strongly recommend contacting them.
Sound off in the comments section and enjoy your day; the Wrap Party concludes tomorrow, along with the announcement of the winner of the
Free CDP Mix-Tape T-shirt!
Comments:
You just don't understand how
freaking awesome
Gogol Bordello is, Hathery, else you would not shake your head so. :)
Seriously, if you ever get a chance to
see them live
, do it. It's an experience to remember 4eva.
Ryan - Man, you sure do know how to make a girl blush. But I'm glad you liked the mix! I must confess I didn't order the tracks like a countdown. I just went for musical flow. And anyway, they're all number ones in my book! Hah. Seriously though, I still listen to this mix in my car whenever I need an energy boost. It's better than crack!
*I have never tried crack.
<< Home