Tuesday, October 6
The CDP Worldwide Mix-Tape Trade #6 Wrap Party (Part 2).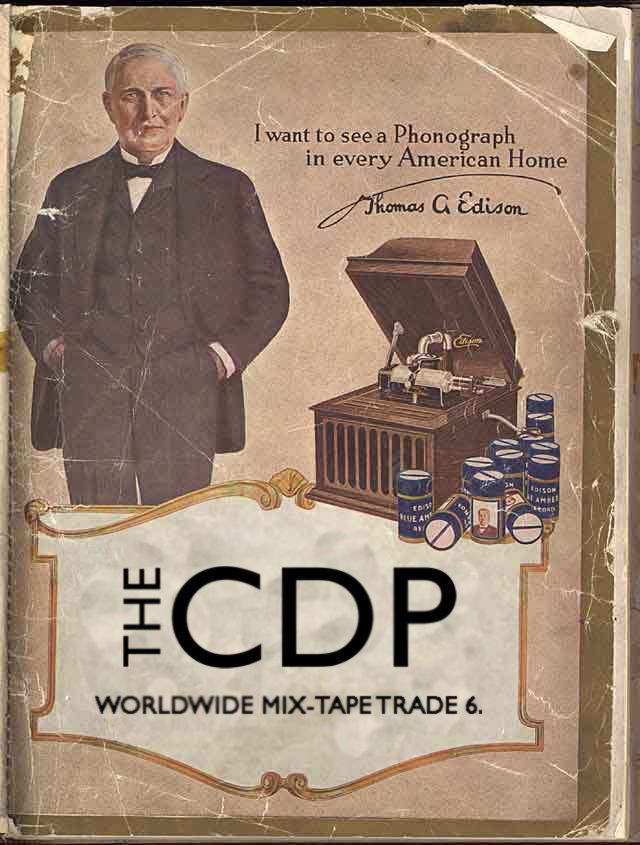 Today's Mix Review:

Mike I

.
The Skinny:
A no-nonsense, ass-kicking album of classic rock, metal, hard rock and...Weird Al?
The Presentation:
Mike's album was sent to me digitally with attached liner notes. I'm sure his artwork was amazing, as his last Mix was quite beautiful.
The Breakdown:
Mike is a man who knows what he likes, and is passionate about these things, which always garners respect from me. With this 'Six Degrees' Mix, Mike sends forth a who's who of the last 30 years of Rock and Roll. Check it:
Good Times, Bad Times - Led Zeppelin
Smells Like Teen Spirit - Nirvana
Cowboys From Hell - Pantera
The Trooper - Iron Maiden
Peace Sells - Megadeth
Dark And Grey - Kid Rock
Killing In The Name - Rage Against The Machine
No Leaf Clover - Metallica
Rock And Roll All Nite - Kiss
Do You Feel Like We Do? - Peter Frampton
Albuquerque - Weird Al Yankovic
Many of his tracks represented two, sometimes three different themes of the Trade, and is an unabashed headbanging, guitar-shredding face-melter from beginning to end. Good job, man.
I should also take this time to mention that I've been getting into Led Zeppelin a lot this year. Granted, I missed the boat by about 40 years, but was always turned off to the band in the past because of the High School burnouts that stumbled upon them and refused to shut up about their amazing discovery (see Phish, as well). I was always into 'Classic Rock' as a teenager, but pretty much only listened to Zeppelin songs that I had heard on the radio.
In retrospect, I'm glad that I didn't immerse myself into the world of Zeppelin until I was 27, because I think I've allowed myself a far bigger appreciation for them than I would have at 16. I mean, this goes without saying, but the first three Zeppelin albums are astoundingly amazing. I had no idea that in 1969, these guys were out-hardcoring and out-punk-rocking every band that were to show up over the next four decades! Jimmy Page was all MEEDLIE-MEEDLIE-MEEEE!!! Robert Plant was all WWWWAAAAUUUUGHHHH!!!!! John Bonham is all BAM-BAM-BOOM-BIFF-POW!!!! John Paul Jones is all DOOT-DOOT-DOOT-DOOT!!!!
ZEPPELIN RULES, MAN! WHOOOOOO!!!!
Sound off in the comments section and enjoy your day. Another Mix review arrives tomorrow.
Comments:
I have always thought that Communication Breakdown is the genesis of Hardcore. But then there's side 2 of Zep III. One of my favorite sides ever. That's the way...
<< Home