Wednesday, October 21
The CDP Worldwide Mix-Tape Trade #6 Wrap Party (Part 13).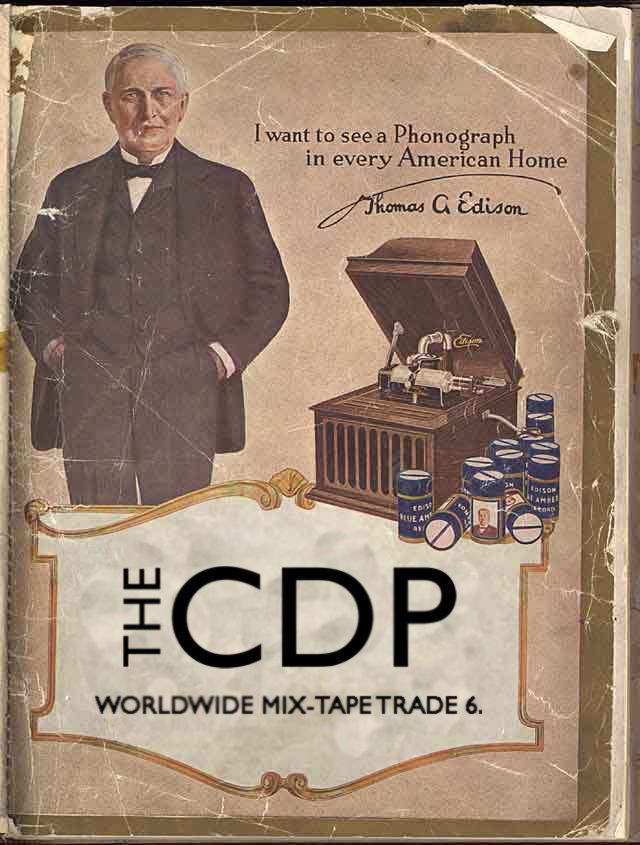 Today's Mix-Tape Review -

Smedley

.
The Skinny
- There ain't nothing skinny about 141 tracks crammed into 8 discs. From the uber-famous to the ludicrously obscure, and spanning over pretty much every decade of recorded music, it's vintage Smedley.
The Presentation
- I've said this before, but I'll say it again. Some people send me liner notes. Smedley sends me a detailed Excel spreadsheet. This man is all business. Considering he does the bulk of his compiling from red-eye flights, lonely hotel rooms and all-night drives, I'd say that it makes perfect sense.

The Breakdown
- Did he miss anybody? I've alphabetized it for your pleasure:
.38 Special
AC/DC
Adam & The Ants
Beat Farmers
Black Flag
Bob Seger
Boston
Bread
Buck Owens
Buzzcocks
Captain Beefheart
Cheap Trick
Chicago
Cream
Dave Dudley
David Bowie
Deep Purple
Devo
Dire Straits
Eddie Money
Electric Light Orchestra
Electric Six
Elvis Costello
Fastway
Fear
Flash
Frankie Smith
Funkadelic
Gary Glitter
Genesis
Graham Parker
Grand Funk Railroad
Hole
Iron Butterfly
Iron Maiden
James Gang
Jeff Beck
Jennifer Trynin
Jimi Hendrix
Joe Jackson
John Coltrane
Joy Division
Judas Priest
Kenny Loggins
King Crimson
Led Zeppelin
Loretta Lynn
Los Lobos
Lucifer's Friend
Lynyrd Skynyrd
Meat Puppets
Merle Haggard
Minutemen
Morphine
Myracle Brah
Nazareth
Night Ranger
Old 97's
Olivia Newton-John
Pink Floyd
PJ Harvey
Porter Wagoner
Portishead
Primus
Public Image, Ltd.
Queen
Rage Against The Machine
Ram Jam
Rapeman
REM
Richard Marx
Richard Thompson
Rick Nelson
Robert Bradley's Blackwood Surprise
Robert Randolph & The Family Band
Robyn Hitchcock
Rush
Saga
Sammy Hagar
Santana
Smashing Pumpkins
Sonic Youth
Soundgarden
Spin Doctors
Squeeze
Steel Breeze
Steppenwolf
Steve Miller Band
Stone The Crows
Superchunk
Supersuckers
Sweet
Talking Heads
Ted Nugent
The 77's
The B-52's
The Cult
The English Beat
The Fleshtones
The Jam
The Kings
The Knack
The Long Ryders
The Oblivians
The Police
The Posies
The Pursuit Of Happiness
The Rolling Stones
The Sugar Bears
The Who
Thin Lizzy
Toto
Uriah Heep
Whale
Winger
Wings
XTC
Yardbirds
Yes
Yoko Ono
ZZ Top
A Smedley Mix is like an alternative-dimension Time/Life compilation, hosted by Rob Halford and Henry Rollins. "How much would you expect to pay for something like this?" For a peek into his madness and for a better description of his tastes than I could ever conjure, I implore you to check out
his personal corner of the web
for further instruction.
Thanks much for another amazing collection of tunes, Smed. Sound off in the comments section and enjoy your day.
The CDP Worldwide Mix-Tape Trade #6 Wrap Party
ends tomorrow, with one final review and the drawing to see who's the lucky winner of a
FREE CDP COFFEE MUG
. Later.
Comments:
I pretty much felt like the luckiest girl in the world when I got smedley as my mix master this go-round. I've
just
made it to disc 8 today (been listening in the car on my way to and from work and the like), and man oh man, I am impressed. Consider my musical ego checked and my musical knowledge thoroughly expanded!
And if there's one thing I've learned from this collection, it's that should I ever find myself deciding which songs to play on the jukebox, I should avoid A11 and B17 at all costs. ;)
<< Home