Thursday, October 22
The CDP Worldwide Mix-Tape Trade #6 Wrap Party (Finale).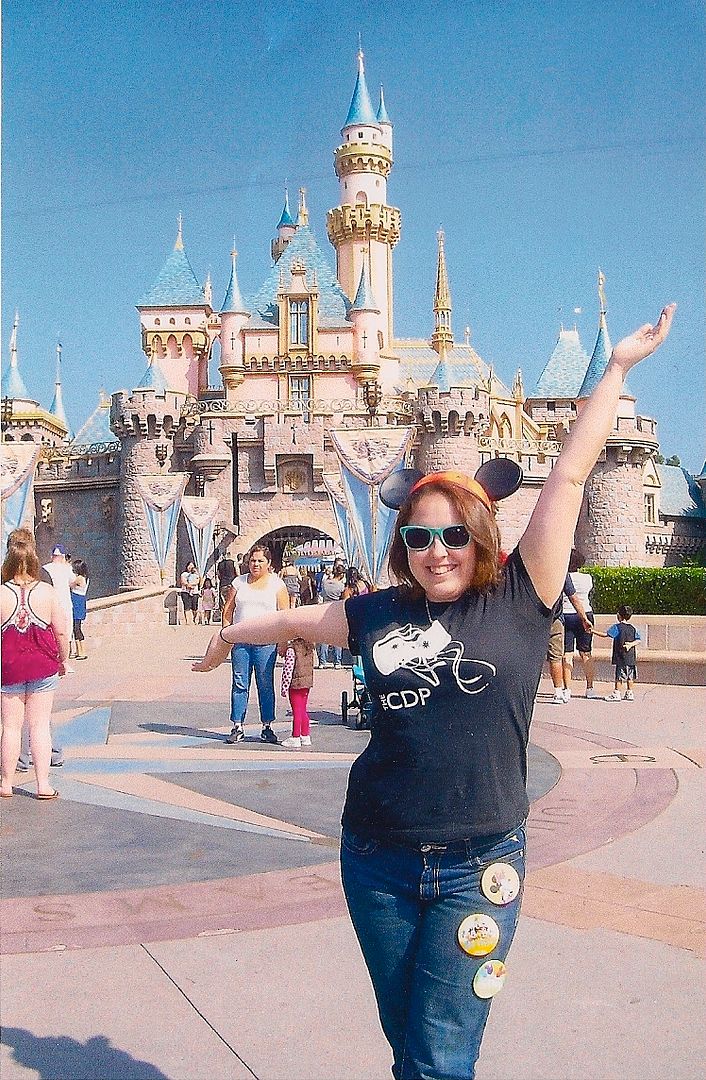 Meet Fiona. As the randomly-selected winner of the
CDP Worldwide Mix-Tape #5
, she received a
CDP
t-shirt, which we see her sporting proudly at Disneyland. It's stuff like this that absolutely makes my day; you're a sweetheart.
After today's final Mix review, I will be selecting another winner of this, our
6th
Mix-Tape Trade, who will win a
CDP Coffee Mug
of their choice. You probably can't take it into Disneyland with you, but you can fill it with coffee and whiskey forever, should you so choose. Here we go.
Today's Mix-Tape Review -

Fiona

.
The Skinny
- Oh man, this Mix is fantastic. Covering every theme (I think) over the course of 29 tracks and two CDs, Fiona gives me hot Opening Tracks, hilarious Guilty Pleasures, filthy Parental Advisory tunes, Cranked-To-11 bombast and epic Closing Tracks. She likes what I like, listens to what I listen to, has a great sense of humor (what
CDP
fan wouldn't?) and can't possibly take herself too seriously. In a word, Awesome.
The Presentation
- Old school. Handwritten. Oh, and she sent me the photo, too.

The Breakdown
- Here are some selected tracks:
Side One:
Break Like The Wind - Spinal Tap
Livin' On A Prayer - Bon Jovi
Heartbeats - The Knife
Be My Dark Angel - Electric Six
Theme From Flood - They Might Be Giants
This Could Be Love - Alkaline Trio
This Is Not A Love Song - The Juliana Theory
Straight Up - Paula Abdul
In Your Eyes - Peter Gabriel
Side Two:
Sippin 40oz - Gravy Train
You Can Be As Loud As The Hell You Want - Avenue Q
Turn Off The Lights - Hollywood Undead
Too Drunk To F**k - Nouvelle Vague
J*zz In My Pants - The Lonely Island
Goodbye Sky Harbor - Jimmy Eat World
Best Imitation Of Myself - Ben Folds (
this was on my Mix, as well
)
Business Time - Flight Of The Conchords
Rainy Night In Soho - The Pouges
All I Ever Wanted - Colin Hay
The Last Song - All-American Rejects
Loved it. Thank you Fiona, you're an inspiration to our entire organization, and a worthy ending to what was an intensely successful
CDP Worldwide Mix-Tape Trade #6
. So, there you have it, but one last order of business before I wrap everything up today; we have a
CDP Coffee Mug
to give away.
The winner is.....
Wallrock
! Congrats, man. Take a look at the
CDP Merch Page
and send me an e-mail letting me know what mug you want. And hey, everyone else should check out the merch page too, because there's some really killer stuff on there.
Sound off in the comments section and enjoy your day. One last announcement tomorrow before I take a week off and prepare for the
CDP Decade In Review
. You may want to prepare, too.
Comments:
I win?!?! This is the best day ever. Thanks!
Seriously, it's Friday and I'm completely exhausted from a five-day trip to MN coupled with seeing Lucero in Milwaukee last night, so this is literally the best thing that's happened to me today. I really considered not coming into work today, but I knew that the pile of unanswered emails, voicemails and whatnot wouldn't wait.
I'm totally going to figure out some kind of sweet picture with that mug.
<< Home