Monday, December 7
The CDP's Top 250 Albums Of The Decade (30-11).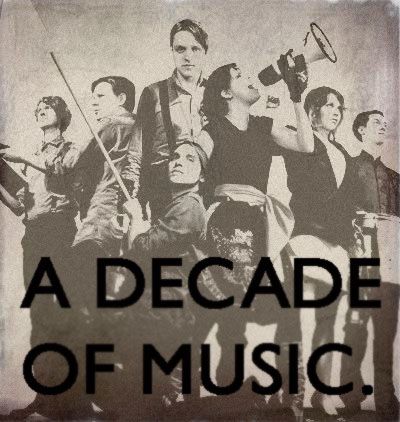 'Pardon the intrusion; could we leave before it gets bad?'

-Matt Pond PA, 'Halloween'
Welcome to Day Nine of
The CDP's Top 250 Albums Of The Decade
. Without exception*, I could listen to every album on today's list from beginning-to-end, and enjoy almost every second of it. It's relatively dominated by indie rock, with some hip-hop, electronic and instrumental albums thrown in for flavor. All amazing, though. Please enjoy.

The New Song

Mediocre At Best | MySpace Music Videos
30. Mediocre At Best –

We're Not Going To Make It
*Right off the bat, here's the exception. I don't know what you were going when you were 18 years old, but I was writing music, playing shows and touring the state with my three best friends. And yeah, the music was as middle-of-the-road as the name of our band would imply, but what's important is that is was probably the three best years of my life, and I'm really proud of that.
When
We're Not Going To Make It
was released at the beginning of 2001, I thought for sure that I would never create a better artistic achievement, and in some weird way, I think I was right so far. There's such a big difference between writing essays and publishing a book versus writing songs and releasing an album. The emotions, reactions, experiences and memories are polarizing; authors sit in quiet rooms, talk to nobody and read reviews and viewer mail in silence. Musicians experience everything
immediately
, on stage, with no backspace button. Now that I'm older, I favor the quiet over the terror or live performance, but not even selling a zillion books is a worthy substitute for one awesome show. Not even my favorite essays as an adult can match the feeling of being a kid, wrestling a song to the ground with your buddies and achieving that 'eureka!' moment where you all realize that you made it happen.
I recommend it to anyone reading that's under the age of 21; start a band, work your ass off, earn absolutely no money and make some memories that you'll cherish forever.
You Must Hear
- 'The New Song'
29. Explosions In The Sky –

The Earth Is Not A Cold, Dead Place
Listening to Explosions In The Sky can make eating a breakfast burrito or purchasing stamps feel like a life-changing act. How these four guys can make such beautiful, swelling, emotional soundtracks without a speck of lyrics is a feat in and of itself; allowing the listener to fill in the vocal gaps with whatever problems or situations they happen to be struggling with at any given time. Over the last few years, their music has been given new life by functioning as the unofficial house band for the brilliant TV show
Friday Night Lights
(while adding significant depth as well), and the fit is a match made in heart-on-your-sleeve Heaven.
You Must Hear
- 'Your Hand In Mine'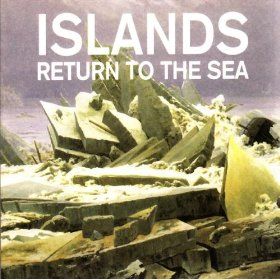 28. Islands –

Return To The Sea
Nick Diamonds cannot really sing, but hey, neither can Win Butler, and that gives each respective band their specific intangible. What Diamonds and his musically-trained buddies in Islands can do better than almost everyone though, is squeeze and stuff endless hooks, key changes and breakneck chord progressions into every single second of
Return To The Sea
. Just listening to 'Rough Gem,' probably their biggest single, boasts new layers and structuring to marvel after repeated listens, and it's probably their most straightforward and poppy song. Speaking of Arcade Fire, I'd say that
Return To The Sea
is like a more rambunctious
Funeral
; more humor, more chances to not take themselves so seriously. And ironically, this is what makes Islands succeed on such a smart level.
You Must Hear
- 'Rough Gem'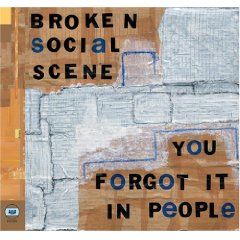 27. Broken Social Scene –

You Forgot It In People
Professional basketball has the 1992 Dream Team. Professional football has the 1972 Miami Dolphins. Indie Rock has Broken Social Scene. Assembling some of the best Canadian artists (19 at last count; the band doesn't like the term 'supergroup') led by Kevin Drew and Brendan Canning (the Jordan and Pippen, or if you prefer, Malone and Stockton),
You Forgot It In People
throws absolutely everything at the wall, creating a cacophony of sound, thanks to the mad genius production of David Newfeld. Winning the 2003 Juno Award (a Canadian Grammy),
People
has already received tons of accolades and topped plenty of year and decade-ending countdowns, cementing its legacy amongst a major group of indie fans.
You Must Hear
- 'Cause = Time'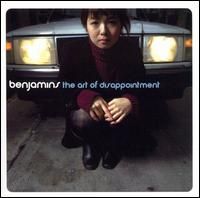 26. The Benjamins –

The Art Of Disappointment
Oh, The Benjamins. Milwaukee's very own. The wall of fuzzy, Weezered-out guitars. The drunken romantic lyrics. The PBR-swaying anthems. The annual reunion shows. When they signed on to Drive-Thru Records and released
The Art Of Disappointment
, most of us thought that the rest of the nation was going to discover what us Midwesterners already knew; The Benjamins were a damn-near-perfect rock band. However, the stress of touring and...who knows what else, caused the band to eventually dissolve for good, leaving behind nothing but sweaty memories and this one stand-out album. It always takes me back.
You Must Hear
- 'Wonderful'
25. Communiqué –

Poison Arrows
Rising up from the ashes of Lookout! Records veterans American Steel (before once again dissolving and
re
-forming as AmSteel), Communique rocked harder than any dance-rock band, and they made you dance harder than any rock band. Their songs catchy, dark and sexy; truly one of the best make-out albums of the last 10 years (do kids make out anymore, or do they just skip to getting pregnant behind the elementary school?). Lyrically, they found a way to break the norm of teenage angst with honest songs about longing and emotional distress, suicide and death. This is a synth-rock emo CD for adults who have perhaps grown out of the genre, or never even really liked it at all.
You Must Hear
- 'Perfect Weapon'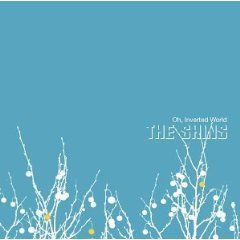 24. The Shins –

Oh, Inverted World
Screw
Garden State
; seriously. In a perfect world, James Mercer would be a billionaire, and Zach Goddamn Braff would be scrubbing his toilets with a toothbrush.
You Must Hear
- 'Know Your Onion!'
23. Sigur Ros –

Agaetis Byrjun
Do me a favor and not tell me that
Agaetis Byrjun
was technically released in 1999; I don't want to hear it. If it wasn't going to be this album, it would have been
( )
; you just cannot discount the impact, acclaim and beauty that these Icelandic weirdos brought into our black, little hearts.
You Must Hear
- 'Svefn-g-englar'
22. Q And Not U -

No Kill No Beep Beep
Q And Not U were one of those bands that could be easily hated. Dischord Records post-punk, mixed with nearly incoherent, Beck-esque lyrics and angular, jangly beats and riffs. However, like most good bands of that genre, once the switch was flipped-- due to a particular song, verse or even a specific lyric that hit you the right way, you fell in love with them for the long term. You instantly saw their genius, heard every note differently and understood exactly where they were coming from (even if they were admittedly coming from nowhere at all). As the years move on and we begin to distance ourselves from decent post-punk more and more (and more),
No Kill No Beep Beep
seems to sound more and more like an artifact from the future, instead of a shining example of our past.
You Must Hear
- 'And The Washington Monument (Blinks) Goodnight'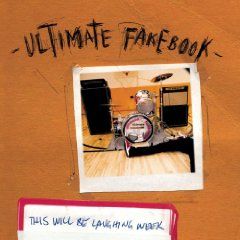 21. Ultimate Fakebook -

This Will Be Laughing Week
One the most pitch-perfect pop-rock bands of the entire decade, Ultimate Fakebook was a three-piece that reveled in 80's nostalgia, forgotten youth (their liner notes are laid out like a high school yearbook; not in an emo way, but in a dive bar alcoholic sort of way), and the girls that got away. Blasting through guitar-drenched power-pop, or slowing things down for a piano-driven ballad (about rejection at Prom, no less), the hooks are everywhere, the intelligence and humor hanging from every word, the message loud and clear.
Songs about the
Star Wars
prequels being a metaphor for ailing a crumbling relationship, the teen excitement of 'Electric Kissing Parties,' and the nostalgic love of your first (metal) band, Ultimate Fakebook could have been the Hold Steady of the new millennium had it not been for their eventual breakup years ago.
You Must Hear
- 'Tell Me What You Want'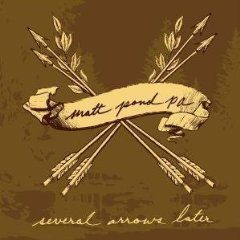 20. Matt Pond PA –

Several Arrows Later
(Review By The Missus:
)
This was Matt Pond's
sixth
full length album, and arguably the most accessible album to date. The opening track 'Halloween' sets the tone for what is basically a non-stop, chamber-pop (barf, I hate that term!!!) masterpiece. Mr. Pond's musical maturation is incredibly evident in the track 'Spring Provides,' which could almost be mistaken for a Peter Gabriel composition.
Several Arrows Later
is the perfect starting-point and introduction for those new to the Matt pond PA catalog.
You Must Hear
- 'Several Arrows Later' or 'Halloween'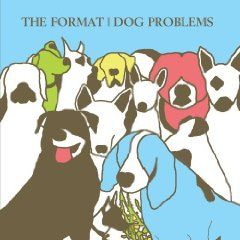 19. The Format –

Dog Problems
There are some vocalists out there that could sing me the appetizer section off of a Chinese menu, and I'd adore every second of it. Up until 2002, Saves The Day's Chris Conley was the only current guy that this for me. After Dog Problems, Nate Ruess has taken his place.
Dog Problems
is frantic, whimsical, brutally emotional, indulgent in almost every major genre and could probably serve as the soundtrack of almost any Disney Movie from the 40's (provided it was about infidelity and divorce).
With each second that passes on
Dog Problems
, the unpredictability is replaced with a sense of wonder and exhilaration, as Ruess (backed by almost every musical instrument ever created) goes from a overwhelmingly happy young man to a self-destructive alcoholic within the space of a measure. Didn't think I would like this album, and it turned out to be one of my favorites.
You Must Hear
- 'Dog Problems'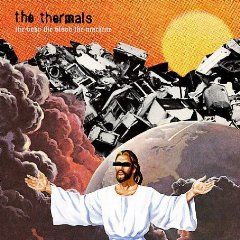 18. The Thermals –

The Body, The Blood, The Machine
Are The Thermals the best rock band in America right now? It's certainly arguable, considering the decade they've had. All four of their major releases since 2003 have been incredible, with each featuring Hutch siren-wailing his existential/biblical/motivational/hopeless scribes over the noisiest guitar ever, and Kathy holding down the rhythm like an adorable, bopping metronome.


The Body, The Blood, The Machine
showcases the (perceived) hypocrisy of the Bible, and certain groups of faux-Christians in general, all while maintaining a certain amount of respect and knowledge about religion by and large. Most rock bands wouldn't try this hard, put their asses so far on the line and somehow emerge with a hard-rocking, fun-as-hell and instantly memorable set of anthems and shout-along choruses, but hey, that's what The Thermals do best.
You Must Hear
- 'A Pillar Of Salt'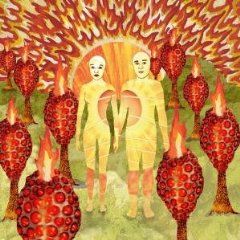 17. Of Montreal –

The Sunlandic Twins
(Review By The Missus:
)
I personally think that
Satanic Panic In The Attic
should be higher up on this list when it comes to Of Montreal, but since this isn't my list…well, you know. 'Wraith Pinned to the Mist (And Other Games)' is a great track, but I can probably never, ever listen to it again thanks to Outback Steakhouse re-penning the lyrics and using it in their incredibly obnoxious ad campaign. In fact, you can thank Outback Steakhouse for giving Kevin Barnes the funds needed to effectively become crazy and probably ruin his own career; but I digress!
The first half of
The Sundlandic Twins
features some of of Montreal's best electronic-pop tunes to date. 'So Begins our Alabee' is a ridiculously danceable, singable feel-good track that is only made better in that it was written for Kevin Barnes' baby daughter. The fun highs of the first half of the album are in stark contrast to the dark, experimental turn the second half takes. Even with its inherent drudgery, humorous ditties like 'Oslo in the Summertime' still manage to make it out alive.
You Must Hear
- 'So Begins Our Alabee'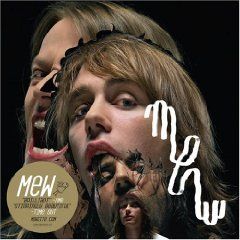 16. Mew -

…And The Glass-Handed Kites
I really don't know how they do it. I've always been of the opinion that there are two types of people that decide to make music. The first type makes music because they know how to do it (or can sort of learn), they
like
music, and they like the subsequent fame, attention and fortune that comes with it. This type of person encompasses approximately 99% of all musicians on Earth.
The second type of person makes music because they are a genius, can create something never seen or heard before, and see it as a language they speak better than any other ventures in their life. John Lennon was this kind of person. David Bowie is this kind of person. Mew is this kind of band. They do what you'd never
think
to do; create something you never
thought
you wanted to hear. Hit you with a melody or progression that
changes your mood
. That's what real artists do, and Mew, with their shimmering, heavenly shoegaze landscapes, succeeded brilliantly with ...
And The Glass-Handed Kites
.
You Must Hear
- 'The Zookeeper's Boy'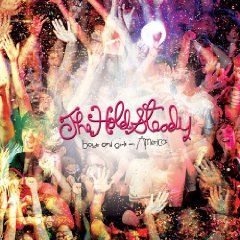 15. The Hold Steady –

Boys And Girls In America
I grew up in an unincorporated town called Larsen, and went to school in an unincorporated village called Winneconne ('Winnie-Connie'). One stop light, one Post Office, a dozen bars; Main Street, USA, as it were. Kids drank behind the hardware store. Took their bikes into the woods to make out. Destroyed their parents cars by doing donuts in the school parking lot. Climbed up the water tower and graffiti'd the crap out of it. Why? Because we were
bored
. Drugs, music, shitty cars and women of loose morals were the only thing that you had in a place like this, so you had to stick together and stave off death by monotony one night at a time. And the grown-ups? They were even
worse
.
The Hold Steady knows this (so does Chuck Klosterman), and with
Boys And Girls In America
, they paint the landscape of every unincorporated town in America with a brushstroke that reminds me of a drunk, passive-aggressive and depressed Norman Rockwell. Where they succeed, however, is in mining some sort of nostalgic
enjoyment
out of these memories that usually seem tragic in the light of day. Craig Finn makes you feel like he was at every party you ever went to as a teen, and wrote a kickass song about it just for you.
You Must Hear
- 'Chips Ahoy!'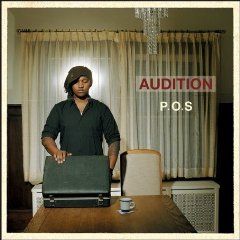 14. P.O.S. –

Audition
The best hip-hop album I've heard all decade, and one of my favorites of all-time, Minneapolis' P.O.S. blends a Punk Rock attitude (not 'rap-rock,' mind you), furious anger at...well, just about everything, and the intelligence of one of the smartest young men in the game. Taking on the 2004 Presidential Election, his frustration at the bleak landscape of mainstream Rap and damn near anything else unfortunate to pop up in his crosshairs, what I love most about P.O.S. is his truly funny sense of humor, and the face that he's one of the nicest dudes on the planet.
If you have given up on hip-hop, think that all rappers are idiots (hey, some people do) or think that the message wouldn't resonate with you,
Audition
will be an awakening.
You Must Hear
- 'Half-Cocked Concepts'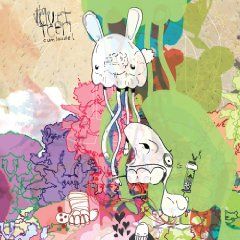 13. The Velvet Teen –

Cum Laude!
(Review By The Missus:
)
Cum Laude!
is one of those albums that leaves you a little confused the first go-round, but makes your jaw drop open just a little more with every subsequent listen. It is nothing short of the polar opposite to the Velvet Teen's previous album
Elysium
. Where
Elysium
has quiet beauty and confidence completely lacking guitars and heavy with strings,
Cum Laude!
is a dizzying assault of distorted vocals, bizarre noises, and chaotic drumming. Drummer Casey Deitz puts on a clinic of musicianship that is without exaggeration positively mind-blowing.
I was fortunate enough to see the Velvet Teen live a few years back when they were touring on
Cum Laude!
, and I can honestly say I have never seen something so phenomenal in my life. Casey Deitz was banging out rhythms that completely defy logic, Judah Nagler was screaming the vocals through a
megaphone
, and bassist Josh Staples somehow held the whole thing together. Seeing The Velvet Teen live made me realize that these guys don't play music because they want to…they play because they
HAVE
to. It simply seeps out of them, and thank God they don't try to stop it.
You Must Hear
- 'Gyzmkid'
12. The Postal Service –

Give Up
I've been making an argument for five years now, stating that
Give Up
was the single most influential indie album of the decade, in that it single-handedly changed the sound, mood, fashion and experimental nature of that particular genre. I defy you to find anything before 2001 that sounded like The Postal Service (new wave influences notwithstanding), and nowadays, you can't swing a dead cat without hearing some sort of minimalist electronic influence on some of your favorite modern emo and indie groups.
Now, I didn't put it at #12 because of my delusion that it was more important than
Kid A
. I put it here because it's incredible. Ben Gibbard has never sounded better. His lyrics have never been more pure. Death Cab never succeeded on this type of level. And what's funny is that The Postal Service didn't expect
Give Up
to take off like it did; they viewed it as a side project with no intentions of a tour or follow-up. However, the album hung around...
and hung around
...and built up steam on the magnitude of 'Such Great Heights,' probably one of the best and most beloved tracks of the entire decade.
Give Up
went on to become the sleeper hit of sleeper hits, selling over 900,000 copies and becoming Sub Pop's second-best selling record ever (only behind Nirvana's
Bleach
).
When I first got
Give Up
, I put it in my car stereo and proclaimed it to be 'good.' I listened and appreciated the tracks, which made way to an unhealthy infatuation with every bleep and bloop. It became my go-to album for drives to and from school. Eventually, I realized that I had been listening to it for pretty much a year straight, something I hadn't done since I snagged Saves The Day's
Through Being Cool
and made my friends listen to it eight thousand goddamn times.
Not too shabby for a side project.
You Must Hear
- 'Such Great Heights'
11. Sufjan Stevens -

Illinois
The best-reviewed album of 2005. Pitchfork, Amazon, L.A. Weekly
and
Entertainment Weekly's 2005 Album of The Year. A critical, musical and artistic triumph.
Sufjan Stevens was sort of kidding when he said he was going to release 50 different albums for each of the 50 states, but after
Michican
and
Illinois
, we all really hoped he was serious (and not just because
Wisconsin
seemed like the only logical third record). It is what it is, a musical guided tour of Illinois, spotlighting such things as John Wayne Gacy and Frank Lloyd Wright, complete with any and every orchestral means necessary to get his point across.
Also, in a decade that may have seen the death of the 'album,'
Illnois
is an
album
. You need every scrap of footage in this collection in order to get the full spectrum, or you'd just be cheating yourself out of one of the most beautiful albums of the last ten years.
You Must Hear
- 'Come On! Feel The Illinoise!'
Thanks so much for reading.
The CDP Decade In Review
continues Friday, as we finally dig into my selections for
The
Top 10 Albums Of The Decade
. Sound off in the comments section and enjoy your day.
Comments:
Regarding The Postal Service's "Give Up" -- what makes a great, influential album is that they weren't trying for that. They were having fun and experimenting and, once in a while, it sticks and the whole industry wants to copy it. I think "Give Up" is as big as a forgotten influence for the '00's as Matthew Sweet's "Girlfriend" was in the '90's. Sweet's opus was that he was depressed from his first divorce. If the legend serves, he couldn't get a label to take it and applied at Toys R Us the day that a label decided to take a chance. Aren't we all glad that they did?
I'm anxious to hear the Top 10. Maybe I'll own more than one of those. :)
For something completely different --
how awesome is this T-shirt.
<< Home