Wednesday, July 14
The CDP's Top 30 TV Shows Of The 90's (#15-11).
15

.

Daria


Aired From: 1997 to 2002 on MTV (65 Episodes)
14

.

That 70's Show


Aired From: 1998 to 2006 on FOX (200 Episodes)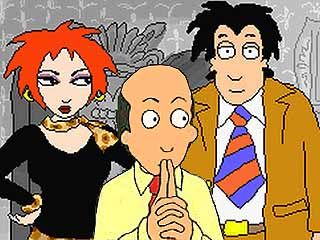 13

.

Dr. Katz, Professional Therapist


Aired From: 1995 to 2002 on Comedy Central (81 Episodes)
12

.

Frasier


Aired From: 1993 to 2004 on NBC (264 Episodes)
11

.

NewsRadio


Aired From: 1995 to 1999 on NBC (97 Episodes)
Thanks for reading. Sound off in the comments section, enjoy your day and check back in tomorrow as the countdown continues.
Comments:
NewsRadio really rocked ... not so much after the murder of Phil Hartman. I think Joe the Electrician said "Dude!" almost as much as Hurley - but with more testosterone in his tone.
Cathy - I agree completely. NewsRadio was one of the most underrated live-action, 'traditional' sitcoms maybe ever. Just because Andy Dick was on it, perhaps. :)
Hilbelink - Dr. Katz went on to inspire another animated series that shows up further in the countdown; what an understated, groundbreaking, funny show.
<< Home