Monday, November 22
Yes, We're Still Talking About This For A Few More Days.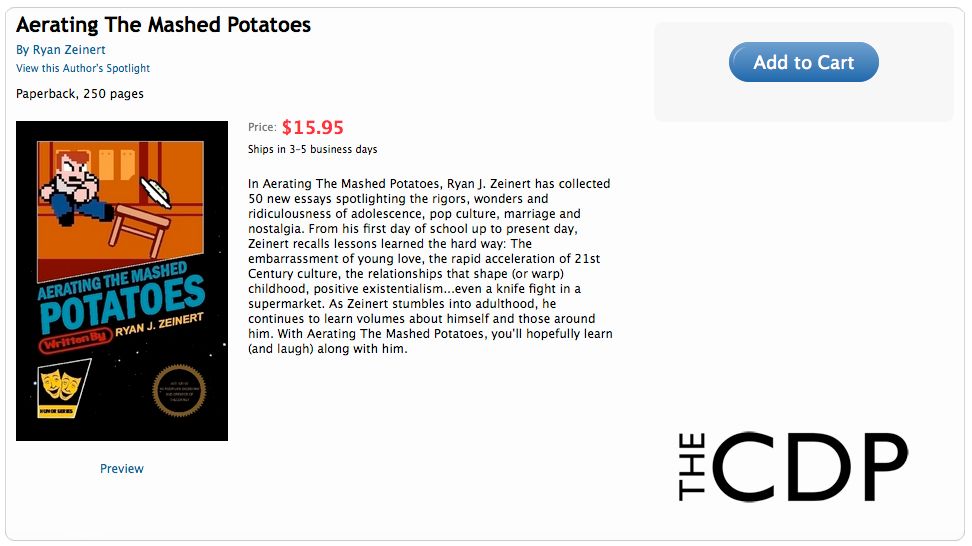 My new book,
Aerating The Mashed Potatoes
, is available everywhere tomorrow. If you want to buy a copy through me, however, you still can. Just send $21 (cash, check or money order) to:
The CDP.
PO Box 865
Sun Prairie, WI
53590
Your $21 gets you an autographed, hand-numbered copy of the book, along with Priority Shipping and a free piece of
CDP
merch. I don't have a crazy amount of copies left, so do it this week if you want to secure a personalized copy for yourself. Thanks much in advance.
Speaking of thanks, Thanksgiving is this week, and I want to once again thank everyone who has already purchased a copy of the new book, told me how much you like it, and any other kind words you've sent my way this year. I knew that this latest effort was an improvement on all fronts from
65 Poor Life Decisions
, so to have people say the same (in as nice of a way as one can verbalize such things) has been really vindicating and fantastic. Turns out I'm getting better at this. Maybe by Book #5 I can start turning a profit or something.
My goals for 2011 are still up in the air, but breaking ground on another book won't be one of them. I want to promote and talk about
Aerating The Mashed Potatoes
for a little while longer (not
too
much longer), then spend the rest of the year making the
CDP
as funny and entertaining as it has ever been. The blog usually takes a backseat during the months where I'm working hardest on books, but next year it'll have a much higher priority, Scout's Honor. I have a lot of new stories I want to share, along with a few other interesting things as we careen headfirst into the Mayan Apocalypse.
Gotta go. Sound off in the comments section, tell me what you're thankful for, and enjoy your day.
Comments:
And you know what else we need to do when you get your wits together...
I hope TJ loved her six-pack.
<< Home